RISING STAR PROGRAM
Our Rising Star Program is for dancers aged 2 to 5. Students will explore creative movement with a ballet foundation. Tap, jazz and hip-hop classes are also avaiable.

Students over 3 years old are offered the opportunity to participate in a year end performance which takes place in June at the Living Arts Centre in Mississauga.
RECREATIONAL PROGRAM
The recreational dance program teaches the basic principles and terminology in a variety of dance styles. Students are placed in classes based on their age and prior experience. All programs are based on a set syllabus to ensure that a high standard of instruction is maintained.

Students are offered the opportunity to participate in a year end performance which takes place in June at the Living Arts Centre in Mississauga.
COMPETITIVE TRAINING PROGRAM
The competitive program is intensive training, designed to challenge dancers in an array of disciplines. The Academy has a reputation for its incredibly clean technique, and unique choreography. Our fun and positive team spirit is apparent with the results that our competitive team achieves at all dance competitions. We compete in ballet, jazz, lyrical, tap, contemporary, acrobatics, hip hop, pointe, and musical theatre.

The Academy offers a full time and part time competitive program.
INTENSIVE BALLET PROGRAM
Sean Boutilier Academy of Dance offers a highly respected Intensive Ballet Training program for gifted dancers. Selected dancers must have the ability to accept and retain corrections, with a keen desire to learn and improve. This program consists of 9 different levels of ballet.

Each year, students in the intensive program prepare for their Cecchetti examinations, held in the spring and fall.
ADULT PROGRAM
Whether you are a beginner or a retired professional dancer, all levels and ages are welcome. Our highly accredited teachers bring an energy and enthusiasm to every class while still providing an encouraging environment. Our Adult Program focuses on strengthening muscles, improving posture, and increasing flexibility and circulation, all while learning different styles of dance.

Adult students are offered the option to perform in our year end showcase at the Living Arts Centre in Mississauga.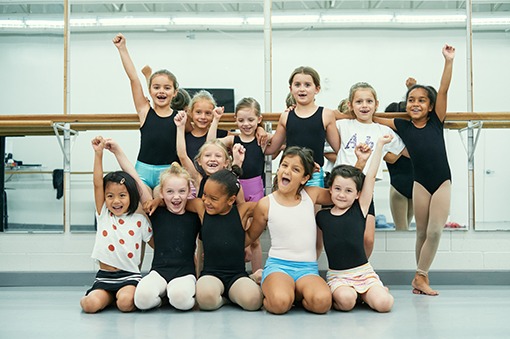 SUMMER DANCE CAMP
Our summer programs provide an opportunity for students to explore several dance styles in a fun and creative learning environment. SBAD offers programs for a range of abilities, in a variety of different styles.
FULL DAY CAMP
Our full day camp focuses on a range of genres so dancers are always exploring something new. Students enrolled will learn ballet, jazz, hip hop, and tap. Classes are provided for the beginner dancer, aged 6 to 16 years old.
July 17th - 21st
August 14th - 18th
HALF DAY CAMP
Our half day camp is all about having fun in a creative learning environment. Students will learn through creative movement and theme related crafts. Half day camp is provided for students 3 to 5 years of age.
July 10th - 14th
July 17th - 21st
August 14th - 18th
August 21st - 25th